Clogher Road, Crumlin, Dublin 12
Sunday: 10:00am & 12:00pm
Mon-Fri: 10:00am
Saturdays: 6:00pm (Vigil)
Celebration of Sunday Mass
Apologies for the delay in today's Mass.  It was due to technical difficulties.
Sunday Mass at 12 noon will be broadcast here every week.
Sunday Mass will begin in:
Important Notice: COVID-19 Pandemic
In light of the present situation we are cancelling all Sunday and Weekday Masses beginning Thursday 19th March until further Notice.
The church is now closed until further notice.
Sunday Mass at 12noon is available  from the church on this website.
Funerals are still taking place, although the numbers attending are now restricted to 10 people.
The Parish Office and Parish Centre are also closed. However, you may still contact the parish by phoning 01 473 3109 or email: clogherroadparish@eircom.net
St. Vincent de Paul Urgent Appeal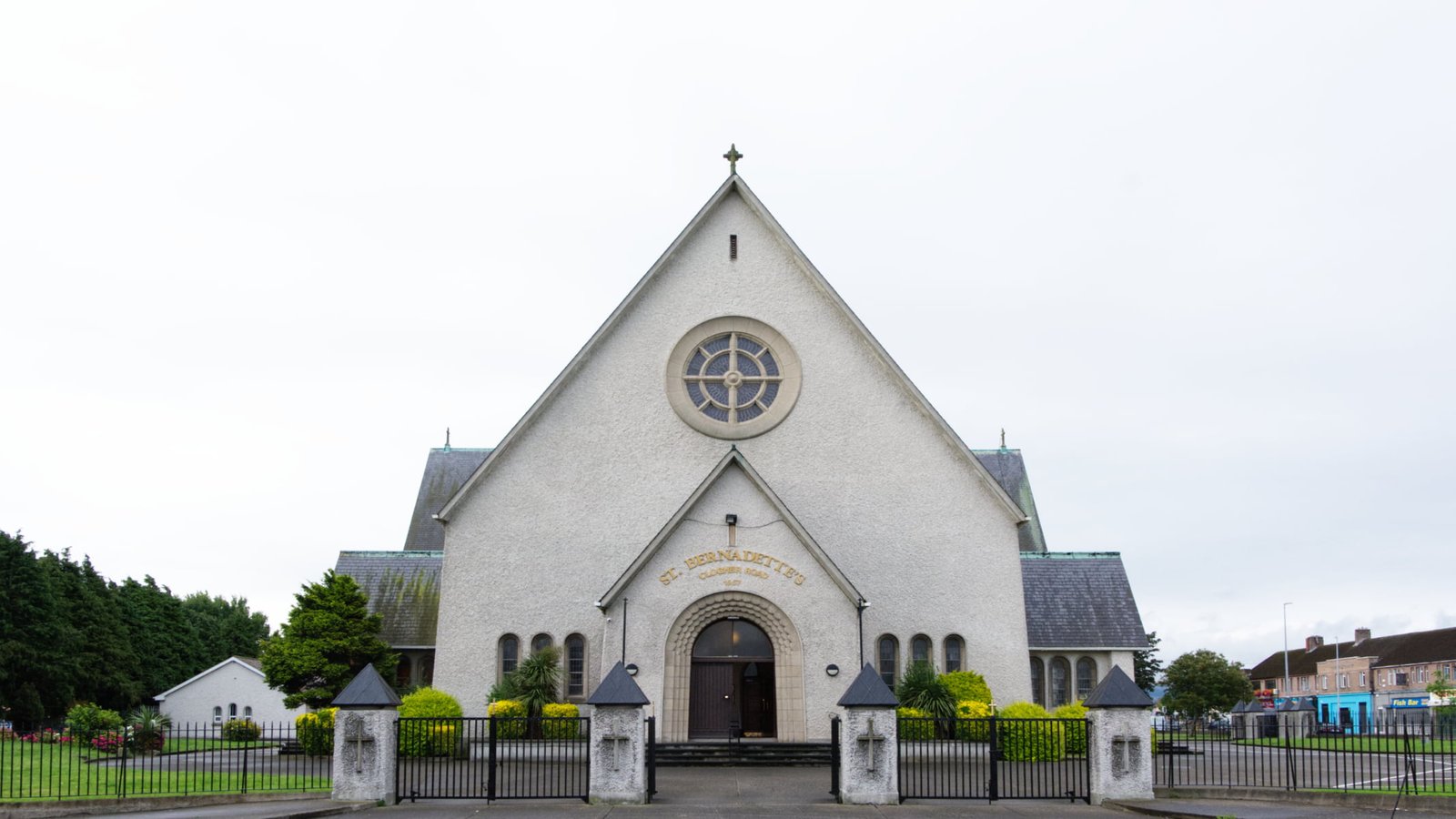 Welcome to St. Bernadette's Clogher Road Parish website. Here you will find all the information you need for the parish, including mass times, sacrament details and news of up-coming events.
We welcome any feedback you have on the site, including suggestions for future events or ideas for our news articles. Simply contact the office by emailing clogherroadparish@eircom.net or phone us on 01-4733109
Loving and healing God,
we, your people turn to you in prayer,
confident that you are with us and with all people in every moment.
We stand before you as people of hope, trusting in your care and protection.
May your faithful love support us and soothe the anxiety of our hearts.
Generous God,
fill us with compassion and concern for others, young and old,
that we may look after one another in these challenging days.
Bring healing to those who are sick with the virus and be with their families.
May those who have died rest in your eternal embrace.
Comfort their family and friends.
Strengthen and protect all medical professionals caring for the sick
and all who work in our medical facilities.
Give wisdom to leaders in healthcare and governance
that they may make the right decisions for the well-being of people.
We pray in gratitude for all those in our country who will continue to work in the days ahead in so many fields of life for the sake of us all.
Bless them and keep them safe.
O God of creation and life,
we place ourselves in your protection.
May the mantle of your peace enfold us this day and tomorrow.
St. Patrick, pray for us.
St. Brigid, pray for us.
St. Laurence O'Toole, pray for us.
May all the saints of God, pray for us. Amen.
St. Bernadette's Newsletter
SVP Urgent Appeal: When this is over, some of us will still be trapped
The Society of St. Vincent de Paul's message is simple:...
Update: First Holy Communion
First Holy Communion Saturday, 9th May 2020 A Special Message to...
Holy Week 2020
The Holy Week ceremonies from St. Bernadette's Church
Important Notice: COVID-19 Pandemic
Dear Parishioners, This is a difficult time for all of...
St. Bernadette's Parish is located in the Archdiocese of Dublin on Clogher Road, Crumlin, Dublin 12.
Constituted in 1947 from Dolphins Barn, the first church was located on the nearby Rutland Avenue.
In December 1957 the church moved to its present location at the cross roads of Sundrive Road and Clogher Road
Sunday: 10:00am & 12:00pm
Mon-Fri: 10:00am
Saturdays: 6:00pm (Vigil)
Mon: Miraculous Medal Novena Prayers (after 10am Mass)
Mon-Wed: Eucharistic Adoration (after 10am Mass – until 12pm)
Confessions by appointment
Child Safeguarding in St. Bernadette's Parish
The Archdiocese of Dublin recognises and upholds the dignity and rights of all children, is committed to ensuring their safety and well-being and will work in partnership with parents/guardians to do this. The Archdiocese recognises each child as a gift from God, and values and encourages the participation of children in all activities that enhance their spiritual, physical, emotional, intellectual and social development. All diocesan personnel (including clergy, religious, staff and volunteers) have a responsibility to safeguard children through promoting their welfare, health and development in a safe and caring environment that supports their best interests and prevents abuse.
Your Parish Safeguarding Representatives are:
Ita Leahy & Clare Pion
and are contactable through the parish office (see below for contact details).